Career Opportunities
Rock River Valley Blood Center is a not for profit, community blood center providing blood products and services to medical facilities across the stateline. Learn more about our Vision, Mission and Values. Rock River Valley Blood Center is an Equal Opportunity Employer. Unsolicited resumes will not be accepted. To be considered for job opportunities, you must specify which open position you are interested in applying for.
EOE M/F/D/V
NOTICE: The Rock River Valley Blood Center (RRVBC) uses E-Verify® to determine identity and employment eligibility of all persons hired to work in the United States. RRVBC will provide the Social Security Administration (SSA) and, if necessary, the Department of Homeland Security (DHS), with information from each new employee's Form I-9 to confirm work authorization. See documents below for details. E-Verify, English (PDF) E-Verify, Espanol (PDF) E-Verify, Right to Work, English (PDF) E-Verify, Right to Work, Espanol (PDF) E-Verify® is a registered trademark of the U.S. Department of Homeland Security.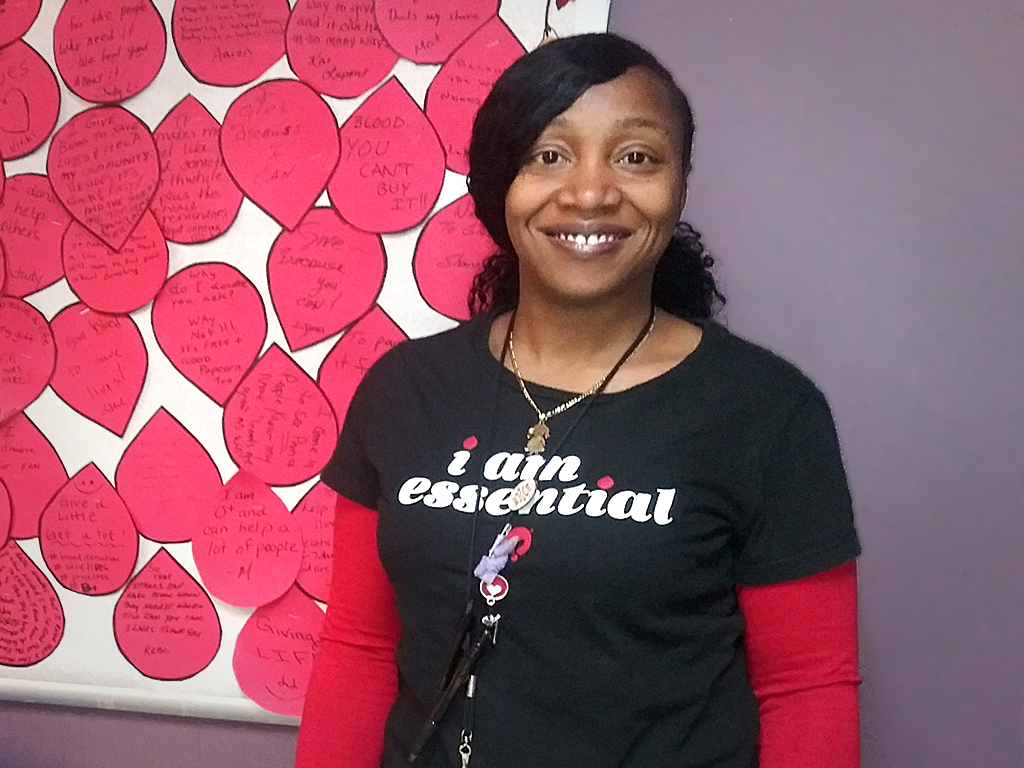 LaShawn Ashley
LaShawn Ashley loves interacting with and helping people, which made her a perfect fit for the Rock River Valley Blood Center.
She joined the RRVBC team 17 years ago and started out drawing blood on mobile drives as a phlebotomist. LaShawn previously worked at a local hospital and liked the variety of the mobile work – traveling to different locations and meeting a variety of people.
From mobiles, she took a position working with donors on apheresis machines, which collect platelets and plasma. She enjoyed working with the machines and has always appreciated time spent with regular donors.
"I'm just a people person," she said. "I'm always surprised how many longtime donors remember when I was pregnant and how my daughters have grown up. They're always asking where they're at now. Building that relationship with donors is so important."
After nearly two decades at the blood center, fellow staff members have become her second set of family. She's now a first-shift supervisor and said on-the-job training for phlebotomists should be a big draw for potential new employees.
"You can start, become good at it and then advance to the next area," she said. "It's a good group – you just need to give us a try. Come on in, apply and hang out with us and you'll see this is a good job."
We're currently hiring phlebotomists for multiple locations. Check out rrvbc.org/careers for more information about current openings.
"Come on in, apply and hang out with us and you'll see this is a good job."
– LaShawn Ashley